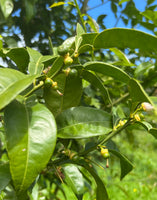 UPDATE YUZU : 1 DECEMBER 2023
Yah! Great looking Yuzu fruit set starting to happen all over the orchard now. Such a lovely sight to see, you wont believe how happy we are to see this.
UPDATE UME : NOVEMBER 2023
Ume trees are looking great with good fruit development. We are anticipating to start harvesting green Ume from early-mid December.
Green Ume is traditionally used to make Umeshu Liquor.
We will let you know on NZYuzu Facebook page when orders are open to supply fresh harvested green Ume.
If you want to pre-order, PM me from the NZYuzu FB page.
Ripening yellow Ume harvesting usually starts in mid-late January through Feb/Mar.
Ripening Ume is traditionally used to make Umeboshi - a salt brined Ume food condiment (and tasty Ume vinegar as a by-product).
The traditional pink colour of Umeboshi is made by adding fresh or frozen red Shiso leaves and stems to the brine while the Ume are still curing in it. Shiso adds the pink colour, enhances flavour, and has natural anti-fungal properties.
Now is the time to start sowing red Shiso seed in your garden so you have it ready to use later on. Kings Seeds stock red Shiso seed. Tip: let a few plants go to seed and they will naturalise in your garden spot.
Harvesting windows are all subject to weather conditions and colder weather tends to delay the fruit development, while warm conditions hastens development.
Here is a neat Ume Facebook interest group page you can join, NZ based ... https://www.facebook.com/groups/umeloverswellington/
Photo taken 16 Nov 2023
UPDATE YUZU : NOVEMBER 2023
Our Yuzu trees are in full spring blossom now. Special care and attention once the fruit starts to develop.
We start harvesting green unripe Yuzu early/mid April. Green Yuzu are traditionally used to make Yuzukosho, a fermented condiment paste made from green yuzu peel and salt. Blended together and cold cured in the fridge for aprox 6 months before you can start using.
Ripening Yuzu (turning yellow), we start harvesting early/mid May until aprox early July. Then the Yuzu season is finished for another year.
All fruit are hand picked and we have to wear strong long sleeved leather gloves to ward off the super sharp and strong Yuzu thorns!